Beauty and Skin Pack A Collagen Hydrolyzed 1000 mg and Hair, Skin & Nails Formula
Regular price
₱2,155.00 PHP
Regular price
Sale price
₱2,155.00 PHP
Unit price
per
Sale
Sold out
Or 4 payments for only ₱1,000 with
. Learn More.
Collagen Hydrolyzed 1000 mg 180 caplets
Have you ever wondered how some people just seem to have it all—glowing skin, great posture, and an amazing head of hair? It's tempting to think that these are simply handed out on a silver platter to a lucky few. But you should know the truth: taking care of yourself is the key.
Collagen supplements have taken the world by storm—and for good reason. It is the most abundant protein in your body and plays a vital role in keeping you healthy. Collagen boasts a myriad of wonderful benefits that target the skin, nails, hair, muscles, and joints. It promotes skin elasticity to help banish fine lines and wrinkles and helps improve hair and nail strength. What's more, it supports your bones, muscles, and joints for a better posture. The fact that it encourages vibrant, glowing skin is just a plus!
Features and benefits



FDA CPR # FR-4000003420577


Helps improve the skin's smoothness and elasticity to reverse signs of aging, such as wrinkles and fine lines


Promotes strong and shiny hair and nails


Great for athletes and active professionals as it helps protect joints, muscles, and bones


Comes with 180 caplets of 1000mg Hydrolyzed Collagen


This bottle contains Type I and III Collagen that is hydrolyzed for optimal absorption, so you can rest assured that you're getting collagen in the best form possible.


Hair, Skin & Nails Formula 60 caplets
Nothing influences the way you look more than your hair, skin, and nails. You can be rocking the latest fashion trends and strutting like a supermodel, but if your skin is dull and sagging and your hair, dry and damaged, you likely won't stand out for the right things. And hey, weak and splitting nails don't look so great either, right?
To help you look your best, taking care of these essential details is crucial. And with our Hair, Skin, & Nails supplement, we leave no stone unturned.
Our Hair, Skin, & Nails vitamin supplement promotes beauty the way we do it best: from the inside out. It contains Type I and III Collagen to help fight the signs of skin aging, as well as Biotin which is known to be good for faster hair growth. And these are only the star ingredients—this supplement also contains essential vitamins and minerals, such as Vitamins A, C, E, zinc, magnesium, and folic acid, to help you achieve stronger nails, longer hair, and supple, younger-looking, and healthier skin.
Features and Benefits



Promotes longer and healthier hair, stronger nails, and supple skin


Harnesses the power of collagen to help fight skin aging


Contains various vitamins and minerals to support your health


Each bottle contains 60 caplets of our Hair, Skin, & Nails formula


**Note: The product images on our website are for marketing and commercial purposes only and are not actual product images. These are the images provided by Puritan's Pride USA.
**Due to batch availability, labels may change without prior notice. Rest assured all items are of high quality.
Share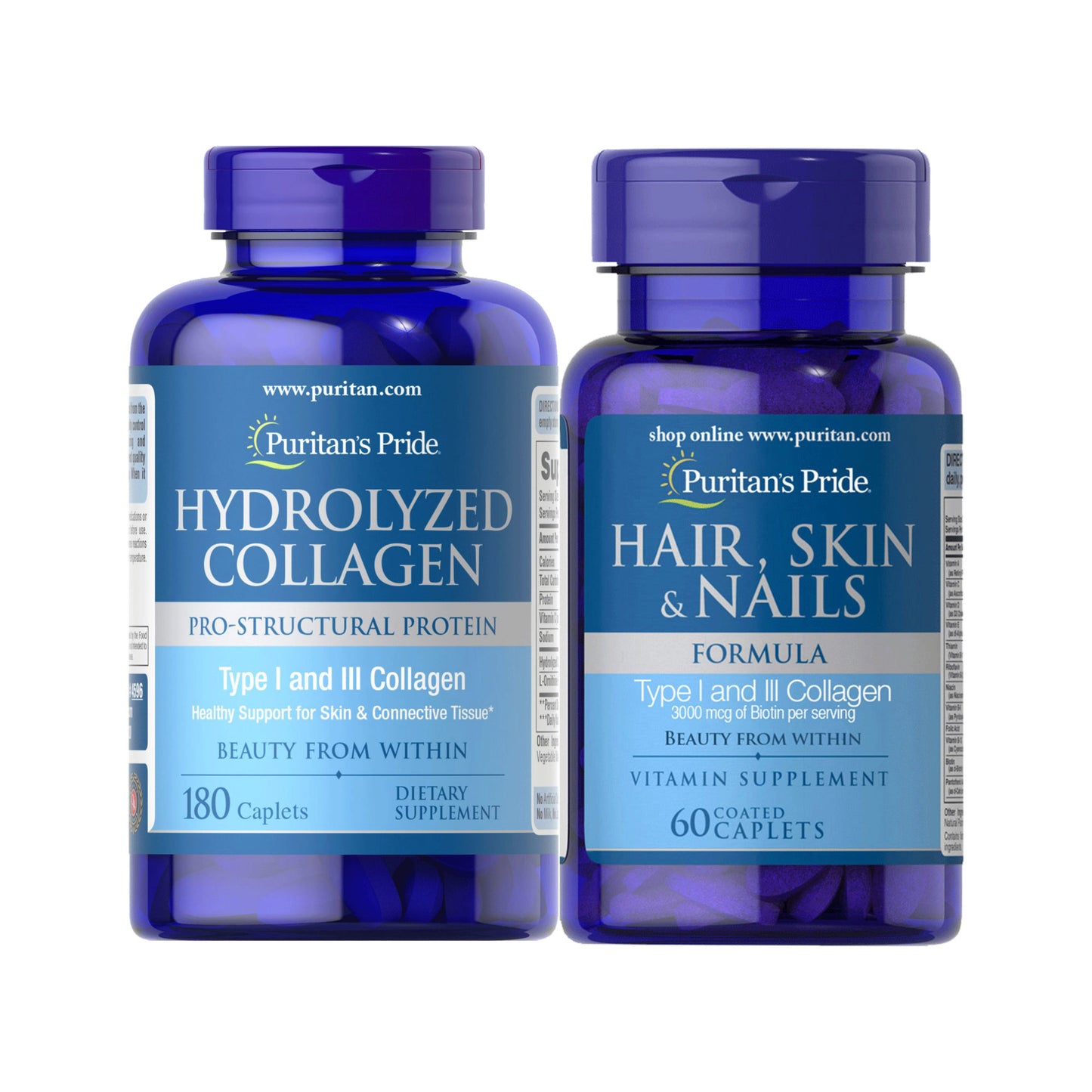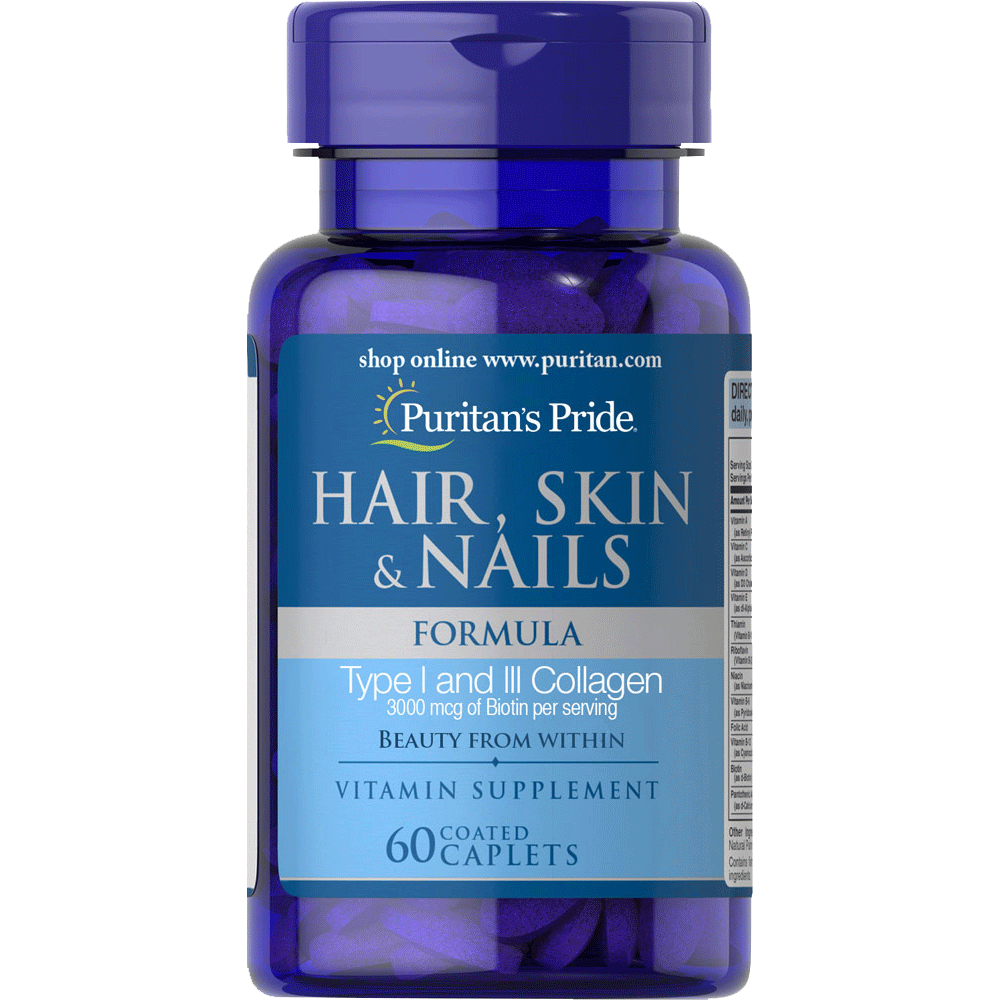 Amazing!
Used this for a year now, I never experience hair loss again. this product is amzing. I love puritan's pride. definitely a good buy. you'll never regret it. 💯 amazing